Rick & Julie Rodgers
No Fixed Address
(How good is that?)
Getalife@nomadznow.com
Our latest trail is always about to happen....we always have one in the planning stage. Take last year (2006) for example. We did 7 weeks traveling the Red Centre of OZ. We finished working the motels on April 23rd 2006 and Julie had a week of Mum and Daddying in Hervey Bay, while I did the finals in the preparation of the rig. The current outfit then was a 100 series Toyota Landcruiser V8 petrol with the 5 speed Auto. Our home on the road was a 2005 Kimberley Kamper Limited Edition with the Gull Wing Box storage on the draw bar. See Pic Landcruiser & Kimberley Kamper However, in June '07 we picked up an 18 foot Bushtracker Off Road Van which will afford us more all weather comfort and give us more storage options as we don't work from home any more.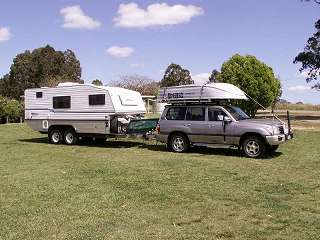 Click for enlargement
How did this all come about? Well we, like a lot of other Australians have a wander lust for this great country of ours and we decided to stop dreaming and do something about it. Too young for retirement wasn't going to stop us...no sense waiting around and rotting in a job we didn't like till we got to retirement age. We couldn't see ourselves waiting until we were a "Pair of BOOBS" (Burnt Out Old Buggars) to go and explore this big wide land.
So we changed our jobs and became freelance contractors in the hospitality industry and rented our house out to look after the mortgage and here we are. Our work web site is at www.reliefmanagers.com UPDATE: March 2010 We succumbed to "The DARK SIDE" and bought a motel in Armidale NSW. This will put the brakes on our "Jaunts" for the next 12 months until we implement the changes that we want for the motel. After that, we'll put in some "Relief Managers" and hook up the Bushtracker again....so look out for us on the road in 2011. Our motel is Cedar Lodge Motel so if you're in Armidale pop in and say "HI".
We have our schedule organised so we work around 7or 8 months of the year (Collectively) and we do our own travel thing for the remaining 4 or 5 months. Our bigger trips are usually 4 - 6 weeks at a time.
Now, back to the TRAILS. We haven't quite finished off the pages for the 2 week trek we had in the Outback in 2000 after we had a few DAZE on Fraser Island. This was a trip we did with a friend of ours from Canada and we have now located the rest of the pics and will put that job in the system. Our unfinished pages can be found HERE.
We have a bit of catching up to do on the updates of the trails but we do have the beginings of a page on our Bushtracker and we'll add to this as we go. Right now we have some pics of the fittings and creature comforts of the setup for you to see HERE

Bushtracker Off Road Caravans

Bushtracker Owners Group Forum
A great bunch of friendly folk willing to assist.
Take a look at the Country "Mother Hen" has covered.
All text and images hosted on this domain are Copyright © 2006-2011